This post may contain affiliate links.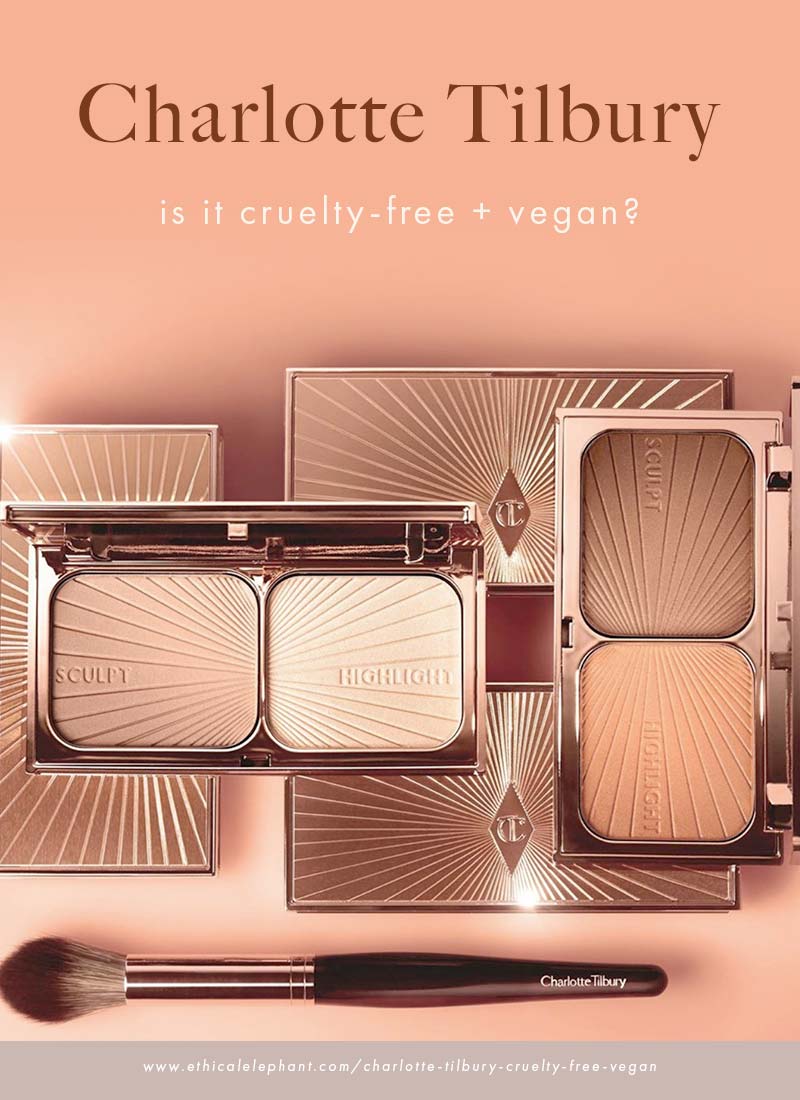 Charlotte Tilbury is an award-winning makeup & skin care brand created by one of the world's top makeup artists but is Charlotte Tilbury cruelty-free and vegan?
Is Charlotte Tilbury Cruelty-Free?
Yes, Charlotte Tilbury is Cruelty-free! None of Charlotte Tilbury's ingredients, formulations, or finished products are tested on animals, anywhere in the world.
Charlotte Tilbury has confirmed they do not test their products or ingredients on animals, they do not allow others to test on their behalf, their suppliers also do not test on animals, and their products are not sold in stores in mainland China or any other country that may require animal testing by law.
*IMPORTANT NOTE: Charlotte Tilbury is currently up for sale to be possibly bought by a non-cruelty-free parent corporation. Current interest and bidders include Unilever, L'Oréal, Shiseido, and Estee Lauder.

If you choose not to support cruelty-free brands owned by a parent corporation then you may want to hold off on buying anything from Charlotte Tilbury for now until the deal is finalized and we hear news if the acquisition will change Charlotte Tilbury's cruelty-free status.
Below is what's currently stated on Charlotte Tilbury's website:


Charlotte Tilbury's Cruelty-Free Statement
Charlotte Tilbury Sold in China?
Charlotte Tilbury is not sold in stores in mainland China, they confirmed this to me by stating, "I can confirm that we do not have any store locations in China."
Charlotte Tilbury is included on our List of Cruelty-Free Brands.
You can find Charlotte Tilbury products at charlottetilbury.com, Sephora, Beautylish, and Nordstrom.
Is Charlotte Tilbury Vegan?
Not all of Charlotte Tilbury's products are vegan as some of their products contain animal-derived ingredients or by-products. However, Charlotte Tilbury does have some vegan options.
Please reference below for a list of Charlotte Tilbury vegan products.
Which of Charlotte Tilbury Products is Vegan?
Below is a list of Charlotte Tilbury products that are suitable for vegans and do not contain any animal-derived ingredients or by-products.
You can also find out which of their products are vegan on Charlotte Tilbury's website.
Face
Lips
Eyes & Brows
Skin & Body Care
---
This vegan product list is updated as frequently as possible, please be aware that formulations may have changed since the publication of this post. If you have new information to suggest one of the above products isn't vegan, please email me at info@ethicalelephant.com to let me know.
---
Is Charlotte Tilbury Ethical?
Based in: UK
Products manufactured in: Italy and Switzerland
Unfortunately, I wasn't able to find any public information on Charlotte Tilbury's sustainability and environmental initiatives.
Eco-Friendly Packaging Initiatives: Charlotte Tilbury's Hot Lips 2 comes in refillable and interchangeable lipstick tubes.
Giving Back Initiatives: Charlotte Tilbury pledges to donate £1 million from their Hot Lips sales to Women for Women International, a non-profit helping women survivors of war rebuild their lives.
Ingredients and Formulations Claims: Some of Charlotte Tilbury's products claim to be Paraben-Free, Gluten-Free, and Sulfate-Free, check their website's product description to view each product's claims.