Your search for the best vegan cheesecake recipe just ended here.
Welcome to the Vegan Cheesecake Hot Spot where I have over two dozen cheesecake recipes to choose from
Here you will find everything from Red Velvet Cheesecake to White Chocolate Blueberry Cheesecake
And just about every flavor combination in between!
But what I realized recently as I linked to my famous vegan cheesecake archives for the zillionth time on social media
Was that i just didn't have a plain base recipe for New York Style Cheesecake
Hence the Snickerdoodle Cheesecake was born.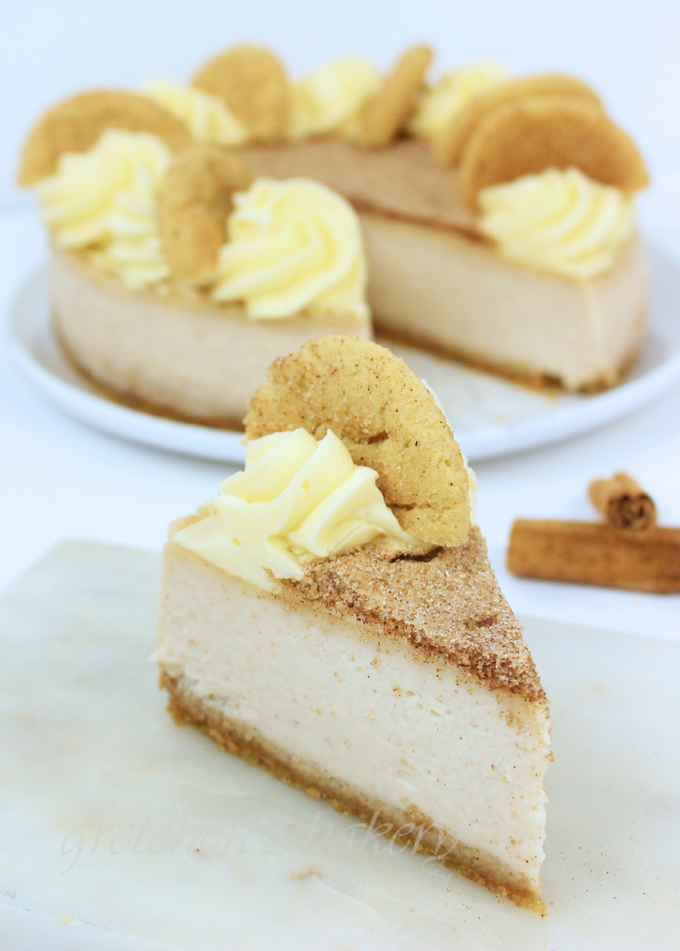 This is the ultimate base recipe and canvas from where all those other flavors were derived
My vegan cheesecake recipes always start off with this base ratio of ingredients which is:
Vegan Cream Cheese ~and I always use Tofutti brand *not sponsored*
And then the basics to making a perfect baked custard which is after all what a cheesecake is!
Sugar, cornstarch and plant milk.
Of course I add a few other things like vanilla extract and a spot of flour to help adsorb and bind
But if you are gluten free you can easily leave that out and replace with another tablespoon of cornstarch.
I also add vegan lactic acid for that characteristic tang that cow cream cheese tends to impart giving cheesecakes their authentic taste
And if you don't have that a bit of apple cider vinegar will do the trick.
Now of course for this Snickerdoodle version I added a pinch of cinnamon to the cheesecake batter
As well as made a special batch of Snickerdoodle Cookies for the crust and a few for the garnish!
This part is optional but it really does bring it all home!
So again if you are here just for the most perfect Vegan Vanilla New York Style Cheesecake then just leave out those cookies and cinnamon and you are already there!
You will notice I always bake my cheesecakes in regular cake pans and not springform pans.
If you have followed me from my bakery days you already know why
But for those who are interested to know why?
And how?
CLICK HERE FOR WHY I DO NOT PREFER SPRINGFORM PANS!
As for the rest of us… Let's make a cheesecake!
One note about the cinnamon sugar topping which is characteristic of a snickerdoodle and what makes this cheesecake recognizable
But for those who want to cut down on excessive sugar I would recommend trying Monkfruit Sugar as an alternative here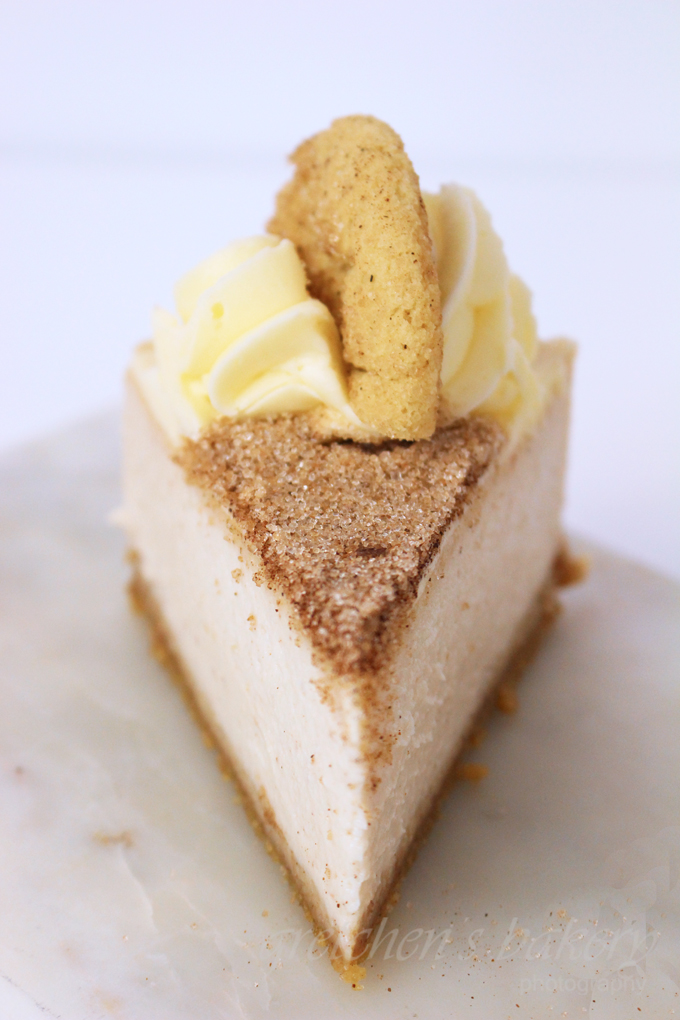 CLICK HERE FOR THE FULL YOUTUBE VIDEO TUTORIAL FOR HOW TO MAKE THIS CHEESECAKE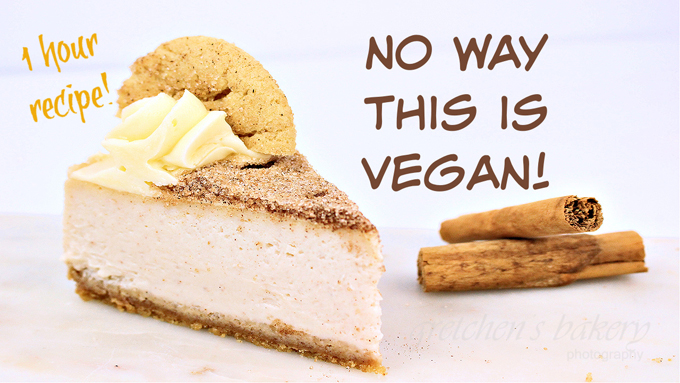 Vegan Snickerdoodle Cheesecake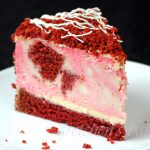 Grease and parchment line a 7″ cake pan
Preheat your oven to 350°F
Prepare the Snickerdoodle Cookie recipe in advance *up to 1 week for the crust & garnish
Ingredients
For the Crust:
1 Recipe Snickerdoodle Cookies *you will only use 6 ounces of cookies for the crust- approximately 8 cookies
Vegan Butter Melted 2 Tablespoons
For the Cheesecake Batter:
Vegan Cream Cheese *see notes 16ounce (454g)
Vegan Butter melted 2 tablespoons (28g)
Granulated Sugar 1 cup (200g)
Cornstarch 4 Tablespoons (32g)
All Purpose Flour 3 Tablespoons (24g)
Cinnamon ½ teaspoon
Plant Milk *I use soy milk 6fl oz (177ml)
Vegan Lactic Acid or apple cider vinegar 1 teaspoon
Salt ¼ teaspoon
Vanilla Extract 3 teaspoons (15ml)
For the garnishes:
You will need about 1-2 cups of Buttercream of your choice for the garnish
¼ cup granulated sugar mixed with ½ teaspoon cinnamon for the topping
Extra Snickerdoodle Cookies
Instructions
Prepare the Snickerdoodle cookie recipe in advance then prepare the crust for this cheesecake by placing 8ounces (approx 8-10 cookies) in a food processor and grind to fine crumbs
Add the melted vegan butter and pulse until the mixture resembles wet sand
Press this mixture into the bottom of your greased & parchment lined cake pan then freeze while you prepare the cheesecake batter.
Place all of the cheesecake ingredients into the work bowl of your food processor and pulse to blend
Scrape the sides of the bowl to ensure an even mix then blend again to a smooth mixture
Pour the batter into the prepared crust and bake in a water bath in a preheated 350°F oven for 1 hour
After 1 hour, turn the oven off but leave the cheesecake in the oven to cool slowly for another hour.
Remove the cheesecake cool completely then refrigerate for at least 2 hours to set or overnight before unmolding.
Loosen the sides and bottom of the cheesecake pan with a blowtorch or by submerging the pan into hot water and running a small spatula around the edges
Vegan Cheesecakes unmold very easily so flip int out onto your serving platter then garnish and decorate as shown in the video
Notes
I only use Tofutti brand Cream Cheese for my baked cheese recipes. I am not sponsored it's just that I have only found success with Tofutti brand & actually Go-Veggie Vegan Cream Cheese which happened to be discontinued.
Cheesecake must stay refrigerated and will stay fresh for up to 10 days covered to prevent drying.
I do not like to freeze vegan cheesecakes as I find the texture changes negatively
3.5.3251
EasyRecipe