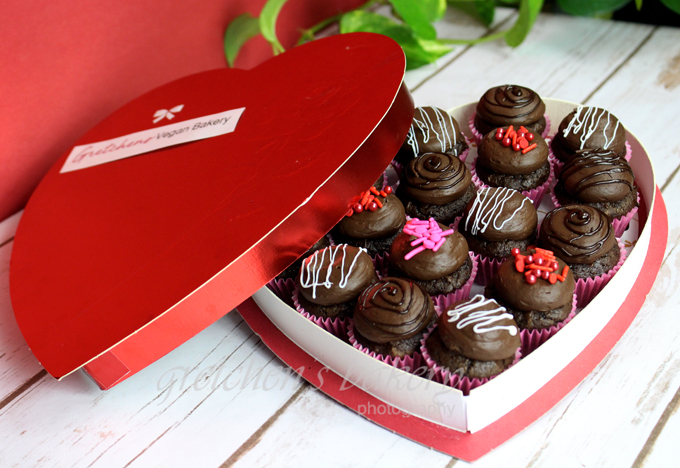 Here is a new, creative and whimsical spin on the traditional Assorted Box of Chocolates!
Mini chocolate cupcakes all dressed up to look like a box of truffles!
Why not give this super fun homemade gift to your sweetest of hearts this year with this Valentine's Day Assorted Box of Vegan Chocolates!?
Sure, assorted chocolate truffles are the norm on Valentine's Day, but why be normal!?
When your sweetie realizes that you didn't just go out and buy a boring old box of chocolates, but instead made these cutest little miniature Double Chocolate Cupcakes!
Be still my heart!
Not to mention they are so easy to make you can have these little gift boxes made up in just a couple hours!
I have two options for chocolate cake to choose from and I'm not sure which one is easier since they are both a breeze to make!
For the super lazy folks we go Chocolate BOX Cake hack!
Where I show you how to hack the store bought box cake and no one will be the wiser!
Shhhh, that's the recipe I used here!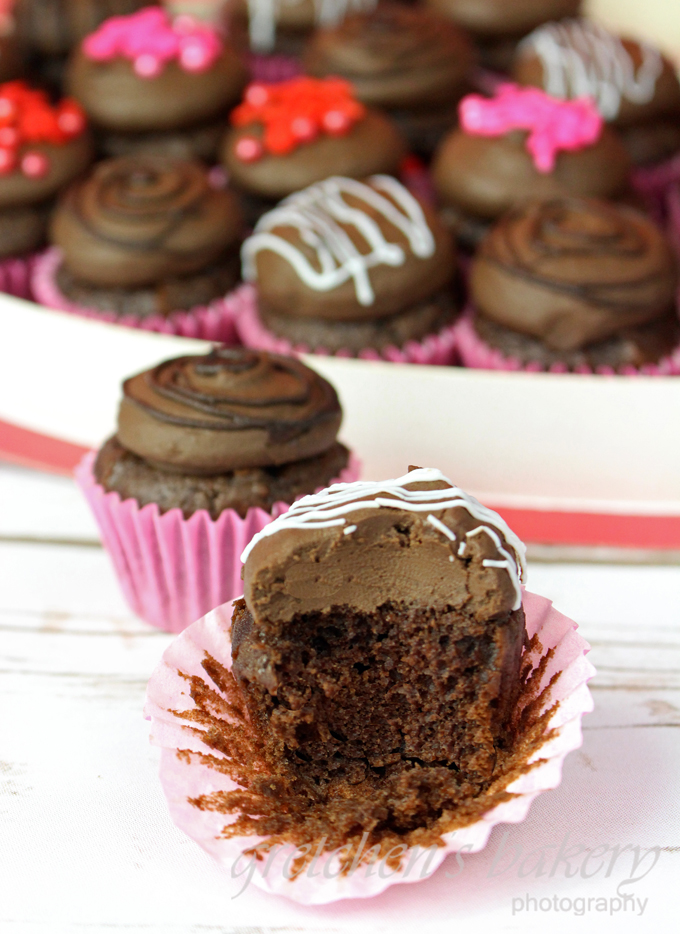 See??  You wouldn't have known unless I told you!
But for the purist, I offer you my amazing Best Chocolate Cake recipe that is equally easy, with no weird ingredients or egg replacers that you probably don't have anyway!
This is a one bowl mix and no mixers required recipe!
So whichever one you choose all you will need in addition to that is a recipe of vegan ganache for the chocolate truffle icing!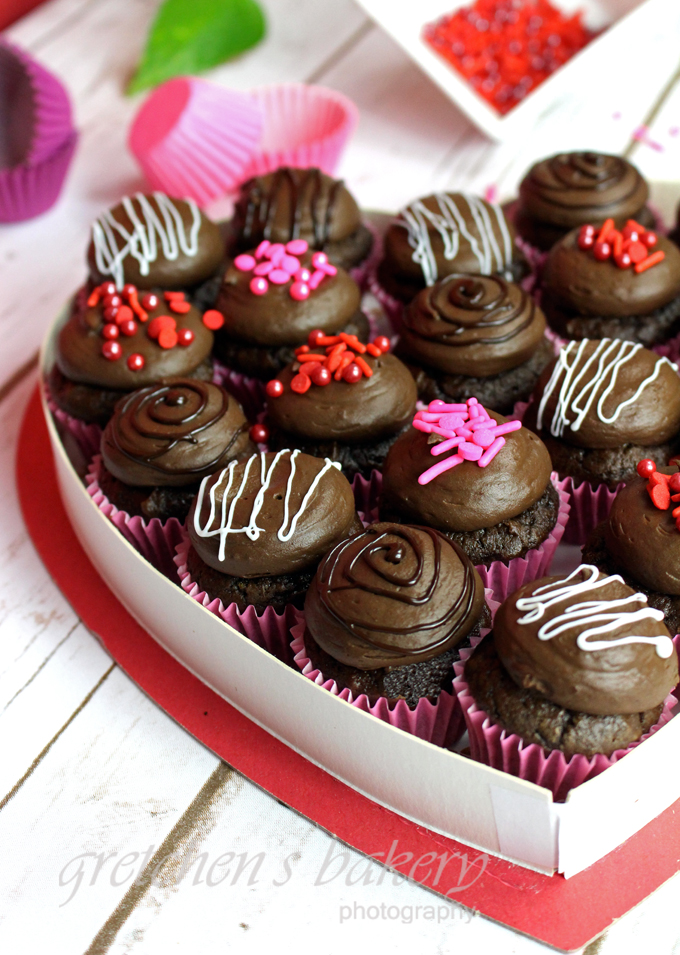 Some sprinkles if you feel so inclined or just keep it simple with a few drizzles of white and dark chocolate for that authentic Box of Chocolates look!
I am using what is considered a 9″ Heart Shaped Pan with a clear lid.
(I am just linking to Amazon to show you the dimensions, but perhaps you can find something comparable in a craft store?)
The whole idea behind the "box of chocolates" is to in fact present the cupcakes in a heart shaped truffle box.
So while you can always make miniature cupcakes to look like truffles, in my opinion it really is all about the presentation in the heart shaped box that makes it a total win!
GET A SNEAK PEEK VIDEO OF THE MAKING OF THIS AWESOME DIY VALENTINE'S DAY GIFT!
BUT BE SURE TO CHECK OUT THE FULL VIDEO TUTORIAL ON YOUTUBE CLICK HERE!
Valentine's Day Assorted Box of Vegan Chocolates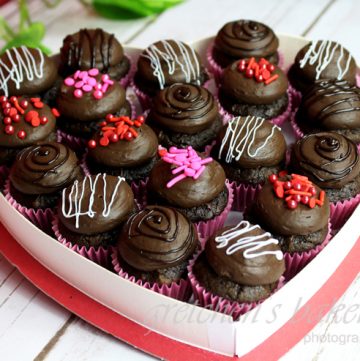 Instructions
Prepare your chocolate cake recipe as per the instructions but bake the batter into miniature cupcake molds
The mini cupcakes usually take about 12 minutes at 350°F
Prepare the vegan ganache and let it stand at room temperature until it thickens to the point of being able to pipe through a pastry bag as shown in the video tutorial.
Notes
Valentine's Day Box of Assorted
Vegan Chocolates
can be stored at room temperature for up to 4 days.
You can store them in the refrigerator if your area is extremely hot, but it is not necessary from a "spoilage" point of view, in fact the cupcakes are best served at room temperature
3.5.3251
3.5.3251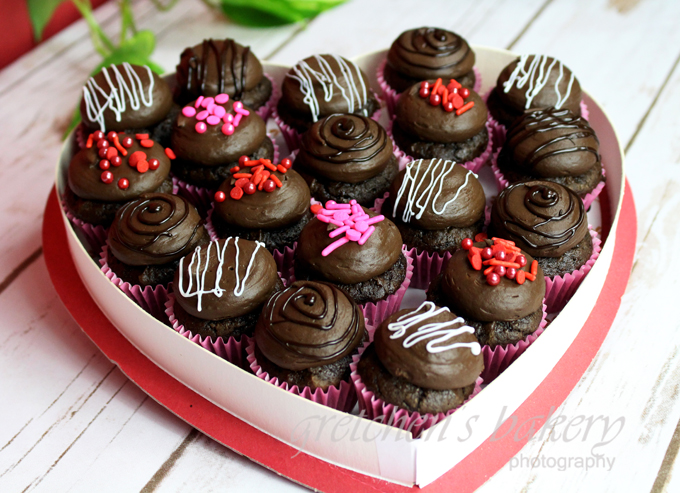 Source