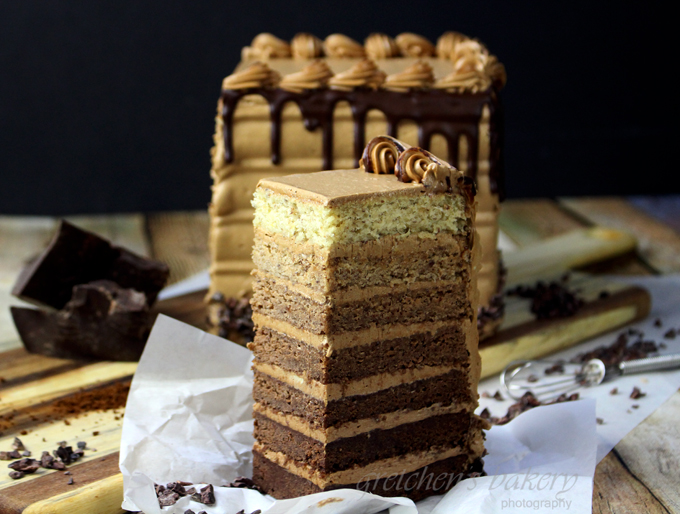 Ok so I'm obsessed with Ombre!
I can't help it!
With the success and beauty of my last Ombre style cake the Green Tea Matcha Cake
I just can't stop won't stop!
Before we even get started let's just clear up one thing.
Mocha is a combination of chocolate and coffee.
It's surprising that many people think Mocha is pure coffee flavored icing with a vanilla cake.
While this can be a fabulous flavor combination for a cake, it's not a true mocha cake
A true mocha cake recipe is going to be chocolate and coffee together with typically a chocolate cake but I have seen it done with vanilla.
Today I am going to satisfy everyone all at once!
By starting with my vanilla cake recipe as a base and gradually adding cocoa powder to the layers for an eye catching Ombre effect!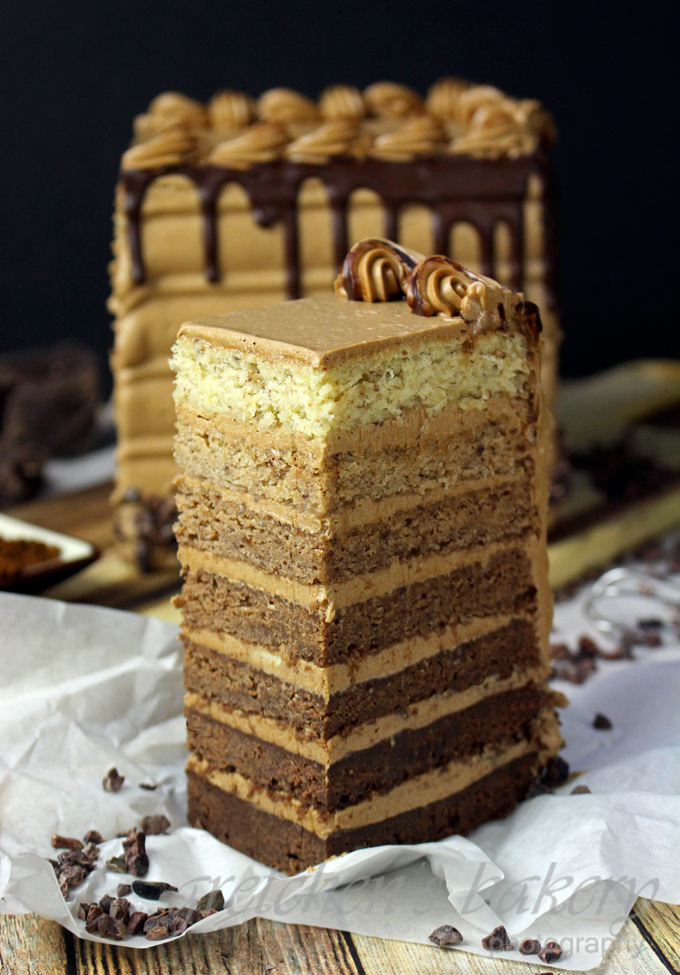 Seven layers of cake with the filling and icing of pure mocha buttercream that will tie everything together for the most delicious and stunning cake ever!
Instant coffee granules and cocoa powder dissolved in hot water transforms your regular buttercream recipe into the most perfect Mocha Buttercream Icing ever!
As I mentioned I am using my best vegan vanilla cake recipe as the base recipe to make the graduating layers of light to dark cocoa.
The gradual addition of cocoa powder to this cake recipe will turn this cake into a more fudge-y brownie-like cake layer by the very last addition
While I don't often try to talk you guys into buying "more stuff" it would be worth the investment to buy the 4- ¼ sheet pans.
There are not many things that I say are "must haves" but lately with my Ombre obsession
These pans sure do make the work fast and efficient.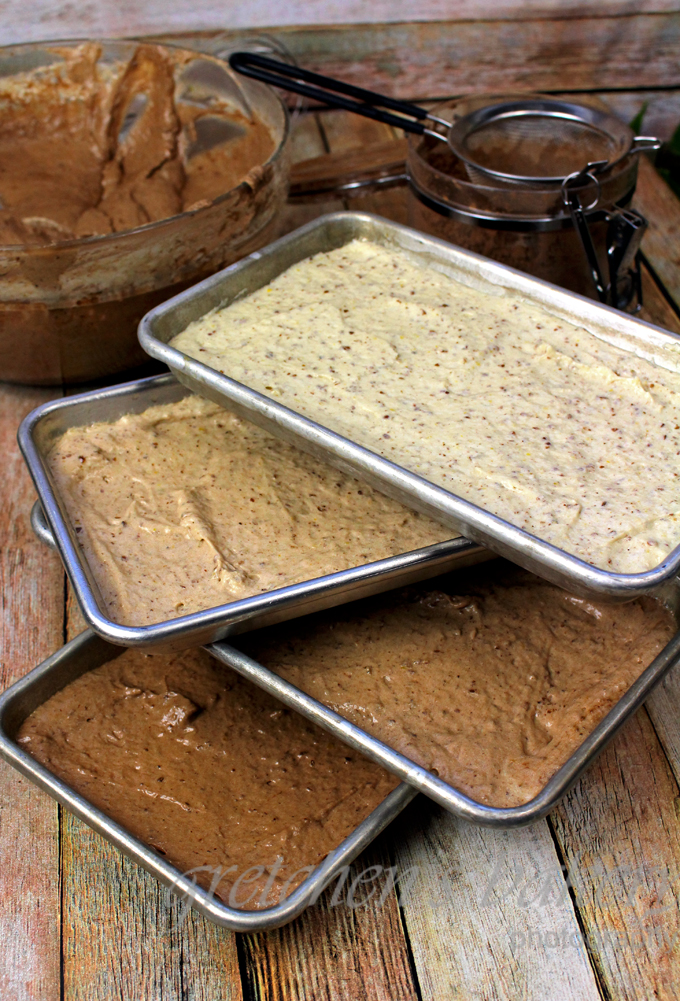 But if you don't want to buy the pans or just aren't into making the ombre layers at all,
You can certainly just make a chocolate cake with coffee buttercream filling and icing and be done with it!
And for those that still maintain that the Mocha Cake Recipe should be made with vanilla cake?
By all means get down wit' yo bad self!
Now for those who want to get a little bit freaky, grab your quarter sheet pans and let's Ombre it up!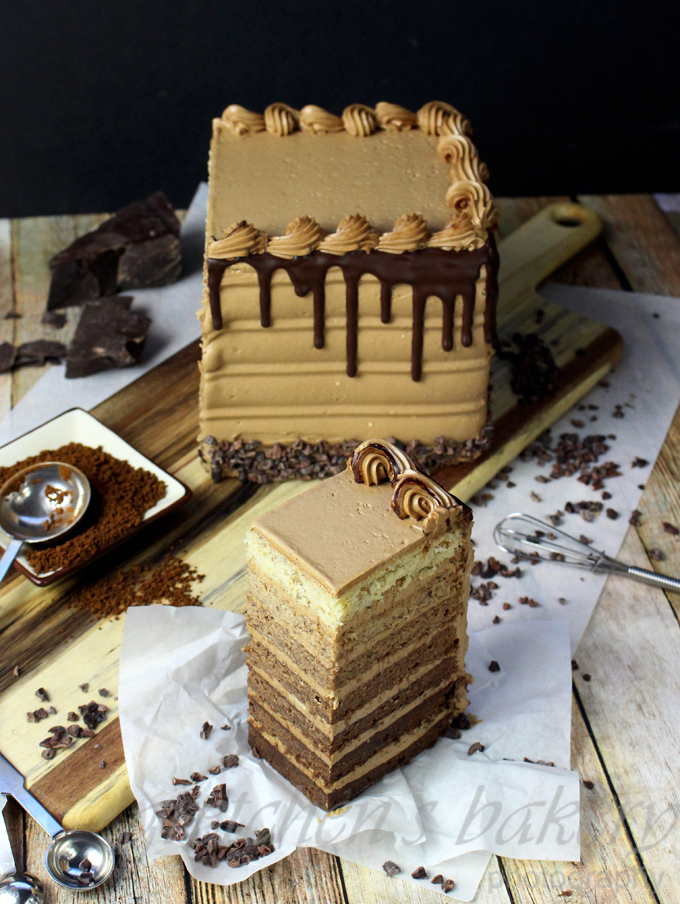 Fun fact: the name Mocha is derived from the city of Mocha in Yemen which was one of the early centers of coffee trade.
CLICK HERE FOR THE FULL YOUTUBE VIDEO TUTORIAL FOR HOW TO MAKE THIS CAKE!
One more note about this cake before we begin, is that it is a giant cake!
7 Layers of cake with the filling and icing makes a really tall cake that will serve close to 16 or 20 people!
So if you don't need that much cake you can scale it down to just half recipe of cake batter for a very beautiful ~ 4 layer cake instead!
As you already saw my recent Matcha Green Tea Cake was only 4 layers and quite stunning!
Mocha Cake Recipe – 7 Layer Ombre Cake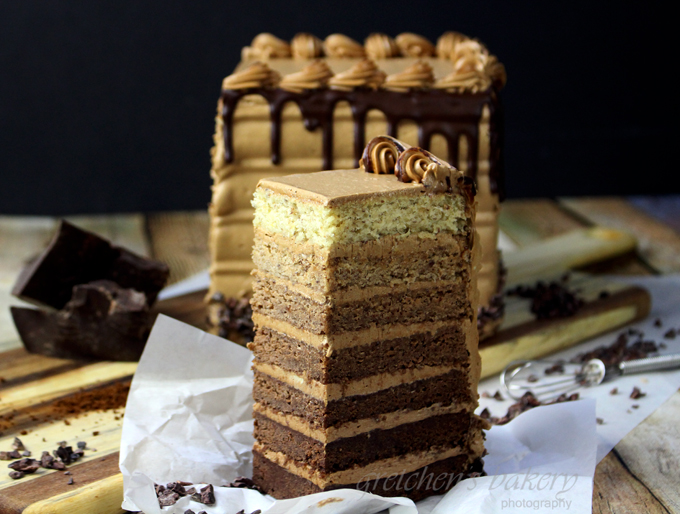 Total time
1 hour 50 mins
Note the servings on this cake!
If you do not need such a tall massive cake, scale everything by half!
Preheat your oven to 350°F
Grease & parchment line 4- ¼ sheet pans
Be sure your ingredients are at room temperature before mixing
Serves: serves 16-20 people
Ingredients
Vegan Butter *room temperature 1½ cups (336g)
Granulated Sugar 3 cups (600g)
Golden Flax Meal 8 Tablespoons (64g)
Hot water 1 cup (237ml)
Soy Milk 2 cups (474ml)
Apple Cider Vinegar 2 Tablespoons (30ml)
Vanilla Extract 2 teaspoons (10ml)
All Purpose Flour 5 cups (625g)
Baking Powder 6 teaspoons (12g)
Salt 1 teaspoon (6g)
Cocoa Powder 8 Tablespoons (48g)
1 Recipe Mocha Buttercream
Optional garnish:
Cacao Nibs
Instructions
Combine the flax meal with the hot water & whisks smooth, set it aside to thicken
Sift the flour with the baking powder and salt
Combine the apple cider vinegar with the soy milk and the vanilla extract and let it stand to thicken for approximately 5 minutes.
With an electric mixer cream the softened vegan butter with the granulated sugar on medium to high speed for approximately 5 minutes until light & fluffy.
Scrape the bottom & sides of the bowl as you mix and then add the flax paste while mixing on medium speed.
Increase speed to high and whip for 30 seconds to emulsify
Add ⅓ of the sifted dry ingredients mixing only until combined then add half of the soy milk mixture mixing just until combined
Scrape the bottom & sides of the bowl and then add another ⅓ of the dry ingredients
Add the rest of the soy milk mixture and then the last of the dry ingredients.
Mix well
Spread approximately 1¾ cups of the batter into one of your prepared pans.
The first addition of cocoa powder will be 2 Tablespoons to the remaining batter in the bowl and mix well.
Spread approximately 1¾ cups of the light cocoa batter into another pan
The remaining cocoa additions will now only be 1 Tablespoon at a time to the remaining batter until all the cocoa powder is gone and you have spread the graduating layers of cocoa batter into each of your prepared pans.
If you are like me and only have 4 – ¼ sheet pans, you will have had to stop and wait for the first 4 to bake.
The bake time in a preheated oven for these thin layers of cake are approximately 16-20 minutes or until springy to the tough when you gently press the centers.
Cool the cakes, then re-grease & parchment line for the remaining batter and layers.
Once the cakes are completely cooled, fill & ice with mocha buttercream
Garnish with cocoa nibs and ganache drip * optional
Notes
7 Layer Mocha Cake can be stored at a cool room temperature for up to 2 days.
For longer storage keep refrigerated for up to 10 days
Freeze wrapped well for up to 2 months
3.5.3251
3.5.3251