Gluten-free lemon cookies that are also vegan, paleo, easy to make and have a delicious frosting!
In January and February, I'm always in the mood for lemon. Winters are so grey here and citrus cheers me up.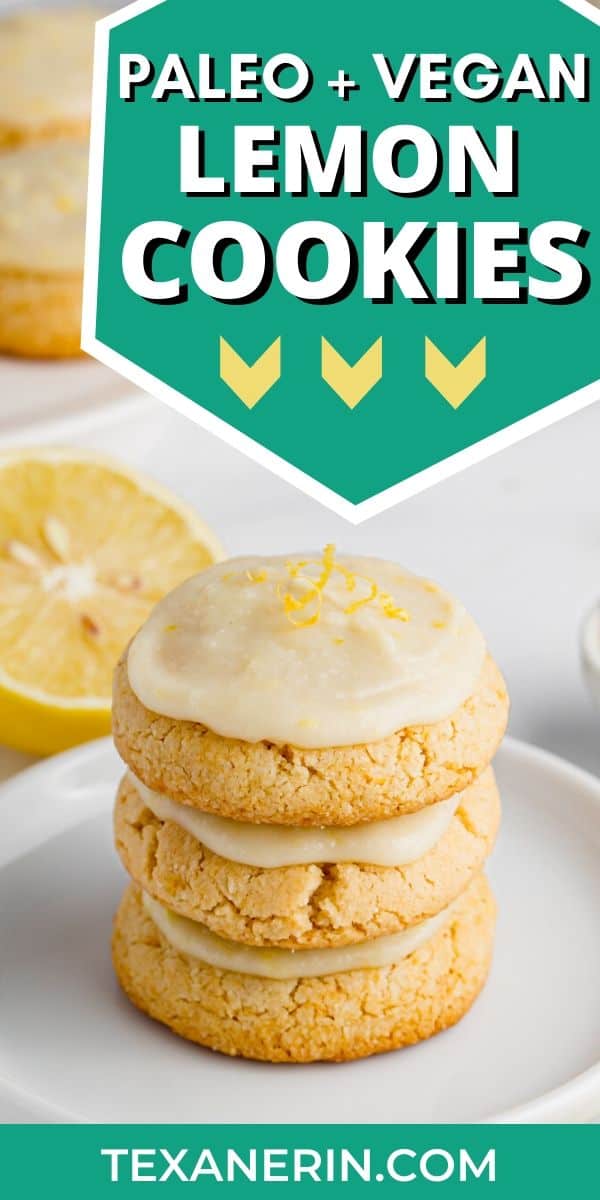 Unlike some of my other cookie recipes, you can tell that these aren't made with all-purpose flour (but don't run away just yet!).
Those other cookies (especially these vegan peanut butter cookies, paleo vegan coconut flour cookies and paleo oatmeal cookies) have nut butters in them doing all kinds of magical things to the texture but I didn't want to add anything to detract from the lemon flavor in these cookies.
But that doesn't mean that these paleo lemon cookies aren't delicious! They're totally maple sweetened and surprisingly (and thankfully!) don't taste a thing like maple syrup. I absolutely love the taste of maple – but not in my lemon goodies.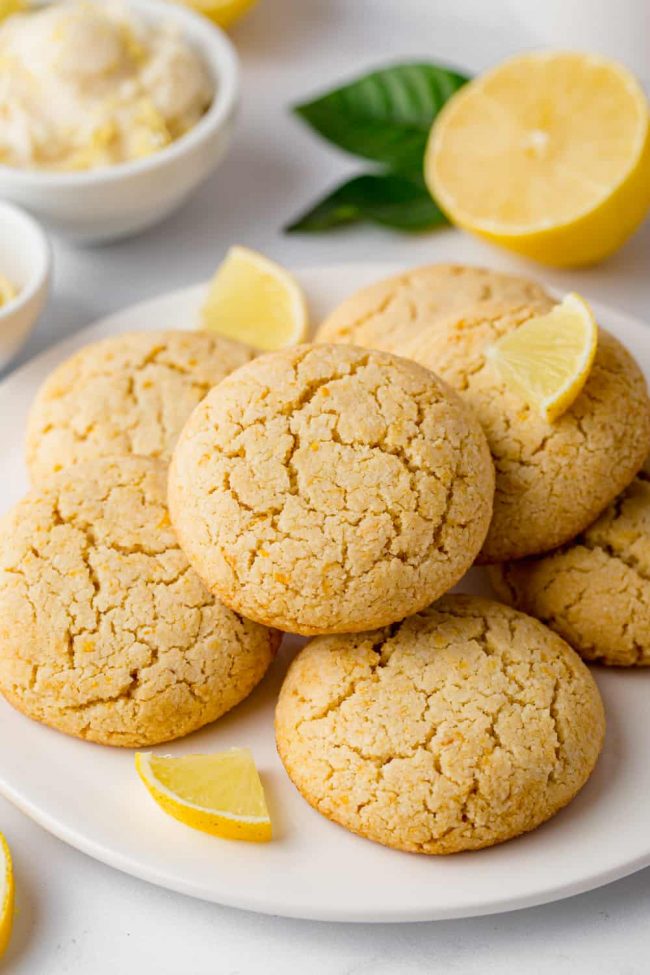 I want that lemon taste to shine through everything else. I used the lightest Grade A maple syrup in these cookies and recommend you do the same if you don't want any maple flavor. Maple also worked great in this paleo lemon fudge!
With no eggs or gluten, I have no idea how these lemon cookies hold together so well but I'm not complaining!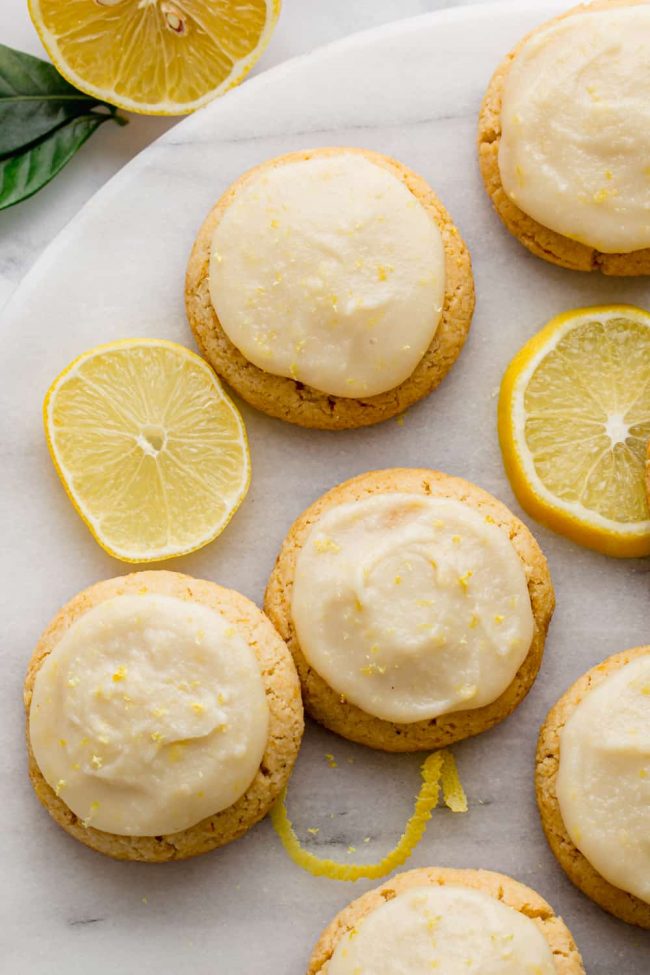 This healthy lemon cookies recipe only calls for 2 tablespoons of coconut flour but you can't just omit it and there's no substitute for it. Just saying since someone always asks!
Some people have said in other posts of mine that oat flour works as a coconut flour sub (for a non- paleo version), but I've never tried it myself. If you try it out, please let us know in the comments!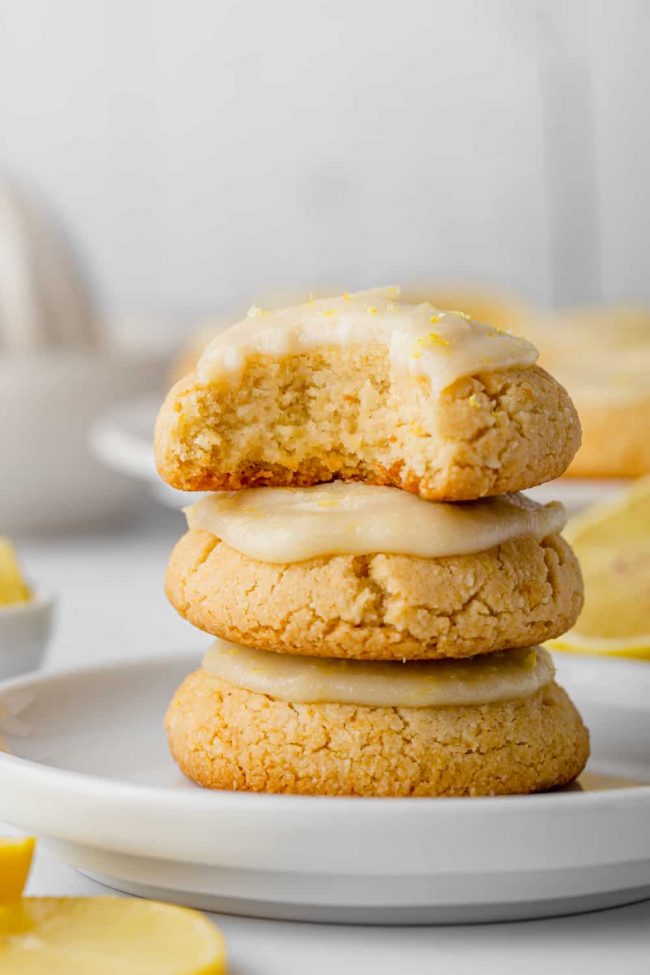 I first posted this vegan lemon cookies recipe 4 years ago and am reposting them because I wanted to reshare them with the frosting recipe. It makes them so much more delicious!
They're still great without but… make them with the frosting! 😀
If you try these gluten-free lemon cookies, I'd love to hear what you think!
Substitution questions about these gluten-free lemon cookies?
Can I use something instead of coconut oil?

I think butter or ghee would work (for a dairy-containing verison) as well as vegan butter (for a non- paleo version).

Can I use something instead of maple syrup?

Honey would probably work if you don't mind a bit of honey taste (for a non-vegan version). Honey + lemon is delicious together! If you want to use honey, bake them at 325 degrees F (162 degree C) instead of 350. Honey bakes quicker than maple syrup. But if you want just lemon taste, go with maple. Agave syrup would probably work, too.

If anyone tries a keto version, I'd love to hear how you did it and how they came out!

Does it have to be blanched almond flour?

You can use almond meal if you don't mind the little bits of almond skin in your cookies. Hazelnut meal would also probably work but I think that's a weird flavor combination with the lemon.

Can I use something instead of coconut flour?

Unfortunately not. There's not a good sub for coconut flour as it absorbs so much more liquid than other flours. I've heard of people using oat flour (if you can have grains) but I have absolutely no idea how much you'd need to use or if it'd be as tasty.

Can I use something instead of coconut butter in the frosting?

Nope! Like I said in my post on how to make coconut butter, these's no sub for it.
The Green Plate Club
I also wanted to share a bit about this great new meal planning site called The Green Plate Club. Some of you probably remember Kiersten from Oh My Veggies before she sold her blog in 2015.
She started this program so that she could put her focus on real-life recipes and not fancy dishes to impress others on social media (I don't do fancy, either – hence all the cookies and no-bake treats :))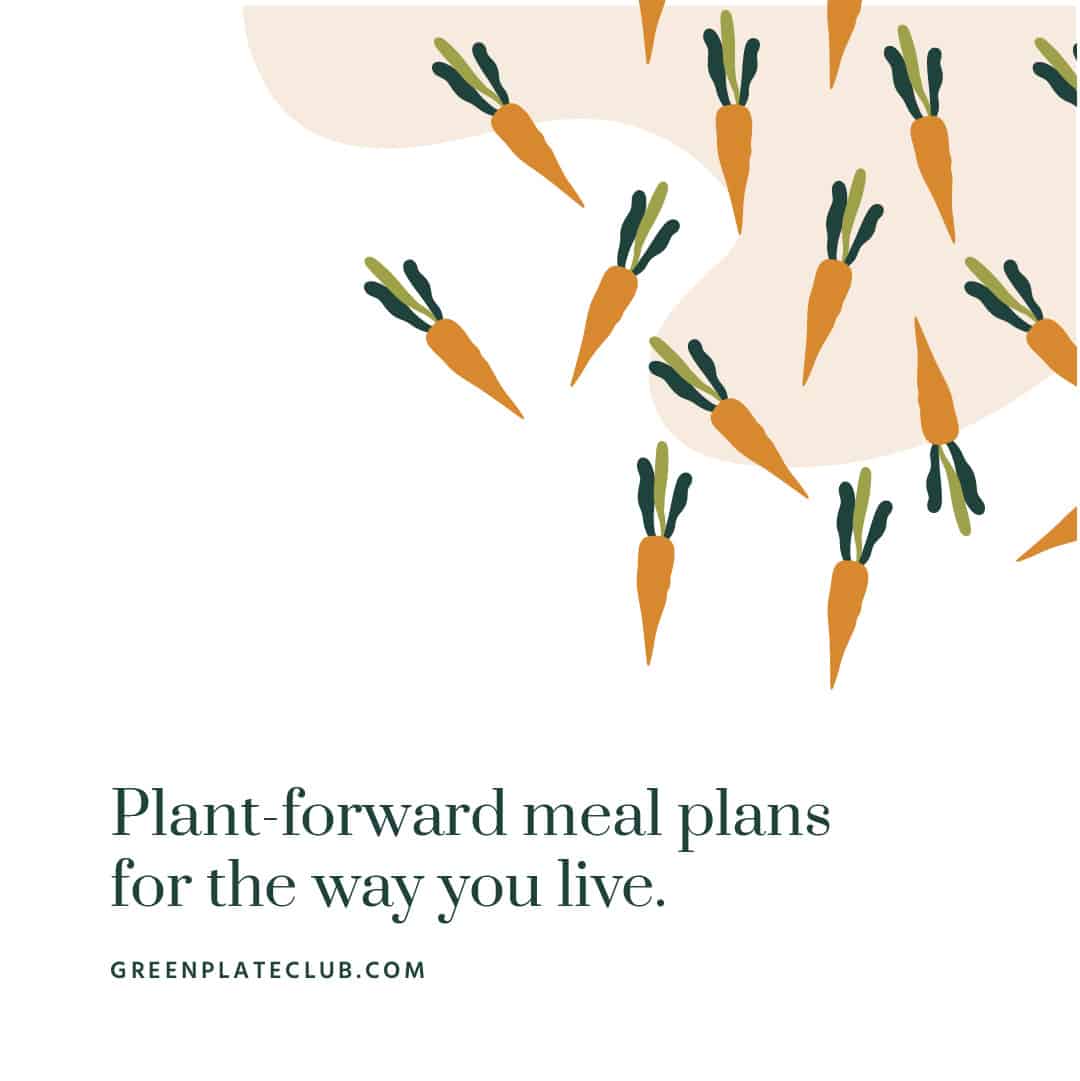 Green Plate Club is for anyone who:
Wants to transition to vegetarianism or plant-based eating, but isn't quite sure where to start.
Needs nutritionist-approved meal ideas that the whole family will love.
Likes to cook a homemade meal, but doesn't always have time.
Is frustrated with throwing away produce that has spoiled before you've had the chance to use it.
Dreads putting together a menu and shopping list each week.
Has decision fatigue when it comes to mealtimes.
Every week, you'll get links to three printable meal plans and super convenient shopping lists: 5-Day Vegetarian, 5-Day Plant-Based, and 3-Day Flexitarian. You choose the one you want (you can pick different ones each week, if you want) and print it out, along with the week's recipes. You also get access to the previous weeks' meal plans and all of the other recipes.
There are also lots of helpful tips that will make your week's cooking so easy. The recipes aren't listed as being gluten-free but most are naturally gluten-free. Some others call for noodles, tortillas or such and then you can easily buy a gluten-free version.
And it's only $6 a month. Or $4.16 if you sign up for a year. You can sign up (affiliate link) here! It's definitely worth checking out. 🙂

Prep Time: 15 min
Cook Time: 15 min
Ready in: 1 h
Yield:

9 cookies
Ingredients
For the cookies:

1/4 cup (56 grams) refined coconut oil, melted1
1/3 cup (80 milliliters) maple syrup (I used the lightest Grade A syrup, which results in no maple taste in the cookies)
1 tablespoon lemon zest
1 1/2 teaspoons lemon extract
1 1/3 cups (133 grams) blanched almond flour
2 tablespoons (17 grams) coconut flour, sifted if lumpy
1/2 teaspoon baking soda
1/8 teaspoon salt

For the frosting:

1/4 cup (63 grams) coconut butter (NOT coconut oil!), softened but not melted
1 1/2 tablespoons maple syrup
1 tablespoon (14 grams) refined coconut oil, softened but not melted
2 tablespoons + 1 teaspoon lemon juice
1 teaspoon (or more) lemon zest
1/8 – 1/2 teaspoon lemon extract (the amount will depend on your brand of extract and how lemony you want them)
pinch of salt
Directions
In a large mixing bowl, mix together the coconut oil, maple syrup, lemon zest and lemon extract. Add the almond flour, coconut flour, baking soda and salt. The mixture might be thin and wet and much more like batter than dough. It might not be. Do not add any additional flour! Chilling will firm it up. Let the dough sit for 5 minutes and then place the bowl in the refrigerator for 30 minutes or until the dough is firm.
Preheat the oven to 350°F (176°C) and line a baking sheet with a piece of parchment paper.
Roll into nine 35-gram balls. Place 3″ apart on the prepared baking sheet and press the balls down slightly with your palm.
Bake the smaller cookies for 10-12 minutes and the larger cookies for 12-15 minutes or until the cookies have lightly browned (not just the edges but also the middle of the cookies). The cookies may crackle a little.
The cookies will still be very soft when you remove them from the oven. Let them cool on the pan completely.
Prepare the frosting. Combine all of the ingredients in a high-powered blender and blend for about 20 seconds at medium or until totally smooth. Don't blend too long or it'll melt. You can also mix this by hand if your coconut butter and oil are soft enough. Spread a heaping tablespoon over each cookie.
Store in an airtight container for up to 4 days.
Notes
Using unrefined coconut oil would yield cookies with some coconut flavor