This Caribbean-inspired Vegan Bento Box Meal Prep is my best meal plan yet! It's perfect for any time of year, totally delicious, easy to make, freezable, and includes a sweet treat!
Unless you have someone else cooking for you, or you can spend hours cooking everyday, meal prepping is the best way to maintain a healthy diet. Since becoming a mom one of my biggest challenges hasn't been eating the right foods, it has been eating enough food. I snack and graze, and often don't have the time or energy to prepare myself a wholesome meal. By dinnertime, I'm ravenous!
Luckily, the solution is simple: meal prep! So as often as I can, I get into the kitchen and prepare a number of dishes that I can eat for days. This week I prepared a simple yet delicious meal prep that is inspired by the delicious tropical flavors of the Caribbean: coconut rice, curried pumpkin seeds, a coconut cilantro pesto, grilled tofu, and tender black beans. Together or mixed-and-matched these dishes can make a hearty Buddha bowl, tasty tacos, a filling wrap, an entree salad, or even a tropical sandwich. By mixing and matching a few simple dishes, I make sure it doesn't feel like I'm eating the same thing every day.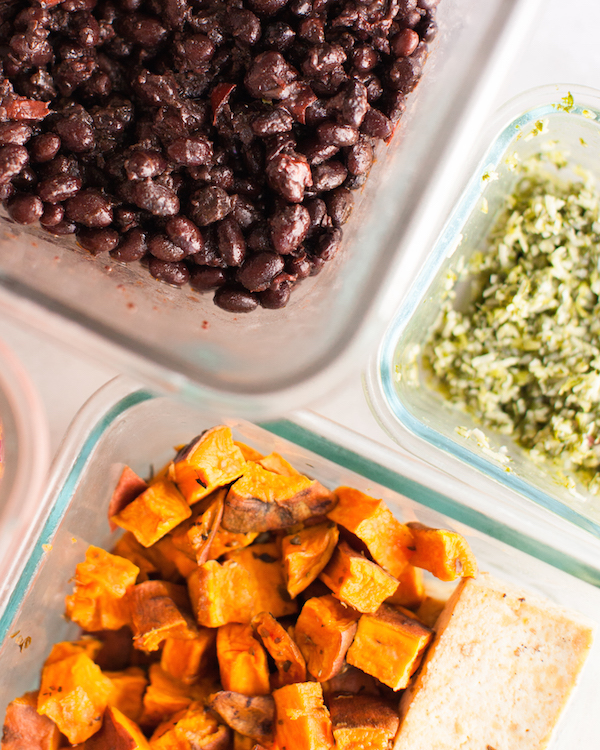 You could even supplement this simple vegan Bento Box Meal Prep with a couple of stews (try this tempeh tikka masala), or veggie burgers (like my sweet potato burgers, or beet black bean burgers). Or make yourself some yummy Mexican rice to make the meal prep last even longer.
Most of these dishes freeze well––with the exception of the roasted sweet potatoes, tofu, and cabbage-–so feel free to double (or triple) the recipes to make more to freeze. Frozen meals are another key to successful healthy eating.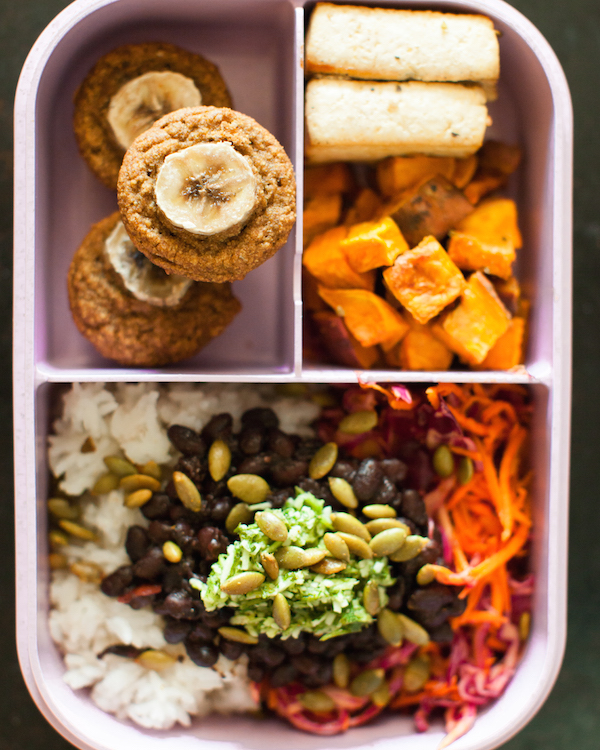 The curried pepitas (pumpkin seeds) and the coconut cilantro pesto are absolutely delicious on anything. Even if you're not making the whole meal prep, these two are a must for easy snacking, and flavor to any meal. Plus they're both super duper easy to make.
Click here for a PDF version of this Vegan Bento Box Meal Prep + combination ideas and a shopping list! Sign up for my newsletter if you'd like more free meal prep guides. I send them every week!
Grilled Tofu | Caribbean-Inspired Vegan Bento Box Meal Prep
Be sure to press the tofu for at least 1 hour before using.
Author: Jenné
Serves: 2-4
Ingredients
1 block extra firm tofu (firm tofu works too)
1 clove garlic, minced
2 tbsp fresh lime juice
2 tbsp apple cider vinegar
1 tbsp maple syrup
1 tbsp dijon mustard
1 tsp cumin seeds
½ tsp salt
¼ cup extra virgin olive oil or avocado oil
Instructions
The tofu should be pressed for at least 1 hour before using.
Cut into thin slices and place back into the tofu container (if you still have it). Otherwise put it in a flat bottom container.
Combine the remaining marinade ingredients in a jar, and shake until emulsified.
Pour the marinade over the tofu, making sure every part of every slice is covered.
Let the tofu marinate as long as possible, ideally an hour.
DO NOT THROW AWAY THE MARINADE. YOU'LL USE IT AS A DRESSING FOR THE SLAW NEXT.
Once the tofu has been marinated, grill it outside.
Or you could bake at 400° for 35 minutes.
My favorite way to cook it is to place it on a grill pan and broil for 5 minutes each side.
3.5.3251
Yummy Instant Pot Black Beans | Caribbean-Inspired Vegan Bento Box Meal Prep
Instructions for stove-top below.
Ingredients
2 tbsp avocado oil, or other oil
½ yellow onion, diced
1 red bell pepper, diced
3 cloves garlic, minced
1 lb black beans, ideally soaked overnight
2 tsp vegetable bouillon paste (I like Better Than Bouillon brand)
Optional additions: 1 tsp cumin seeds, 2 tsp oregano, 1 bay leaf
Instructions
Warm oil in the Instant Pot on the sauté setting.
Add the onions, pepper, and garlic, and sauté until onions are translucent.
Add the black beans, vegetable bouillon paste, and spices.
Pour enough water over the beans to just cover them. If your beans weren't soaked, then cover about 1 inch.
Pressure cook on high for 15 minutes if beans were soaked; 30 minutes if they were not soaked.
Allow the Instant Pot to natural pressure release, then open.
Stove-top instructions:
Only use soaked beans if you are not using a pressure cooker.
Sauté the onions, peppers, and garlic in oil.
Add the beans, veggie bouillon paste, spices, and 6 cups of water.
Bring to a boil, then reduce to a simmer for 45 minutes.
Skim off any foam.
Test to make sure the beans are tender, if not keep cooking until they are.
Season to taste with salt.
3.5.3251
Coconut Jasmine Rice | Caribbean-Inspired Vegan Bento Box Meal Prep
Stove-top instructions below.
Author: Jenné
Serves: 4-6
Ingredients
1 ½ cups white Jasmine rice, thoroughly rinsed
1 can coconut milk
½ cup water (1 cup if making stove-top)
1 tsp salt
Instructions
Place all ingredients into the Instant Pot and pressure cook on high for 3 minutes.
Allow it to natural pressure release before opening. Fluff with a fork.
Stove-top instructions:
Place all ingredients in a pot, and stir.
Bring to a simmer, and cook with the lid slightly ajar for 20 minutes, until tender.
3.5.3251
Curried Pepitas | Caribbean-Inspired Vegan Bento Box Meal Prep
Store in a jar in your pantry to keep fresh and crunchy.
Author: Jenné
Serves: 2 cups
Ingredients
2 cups raw pumpkin seeds
1 tbsp coconut oil or other oil
1 tsp salt
1 tsp curry powder
Instructions
Preheat oven to 350°, and line a baking sheet with parchment paper.
In a bowl, pour the coconut oil over the pumpkin seeds. Stir thoroughly.
Add the salt and curry powder, and stir again.
Spread the pumpkin seeds over the baking sheet in an even layer.
Roast for 8 minutes. The seeds should be fragrant and turn golden brown.
Allow them to cool completely before eating and serving.
3.5.3251
Roasted Sweet Potatoes | Caribbean-Inspired Vegan Bento Box Meal Prep
Ingredients
2 medium sweet potatoes, cubed
1 tbsp olive oil or your favorite oil
1 tsp oregano
1 tsp sea salt
½ teaspoon black pepper
Instructions
Preheat oven to 375° and line a baking sheet with a silicone baking mat or parchment paper.
Toss the cubed sweet potatoes with oil, then spread them evenly onto the baking sheet. Sprinkle the oregano, salt, and pepper over them.
Roast for 35 minutes.
3.5.3251
Wholesome Banana Muffins | Caribbean-Inspired Vegan Bento Box Meal Prep
These also work with 100% wheat flour, or ½ cup wheat flour and ½ almond flour.
Ingredients
½ cup whole wheat pastry flour
½ cup almond flour
½ cup teff flour
½ cup coconut flour
1 tsp baking soda
½ tsp salt
1 ripe banana
1 tbsp ground flax + 2 tbsp water (let sit 5 minutes)
1 cup oat milk
1 tsp vanilla extract
¼ cup coconut sugar (or brown sugar)
Instructions
Preheat oven to 350°.
Blend the flours, baking soda, and salt together.
In another bowl mash the banana, then add the flax "egg" mixture, oat milk, vanilla, and coconut sugar. Stir well.
Pour the wet into the dry, and whisk to combine.
Pour into the muffin cups, if you have more banana, top each muffin with a thin slice of banana. Bake for 25-30 minutes.
3.5.3251
Coconut Cilantro Pesto | Caribbean-Inspired Vegan Bento Box Meal Prep
Double this recipe to make enough to freeze for later 🙂
Author: Jenné
Serves: 1 cup
Ingredients
1 bunch fresh cilantro, stems and leaves
½ cup toasted coconut shreds
1 clove garlic, chopped
1 lime
1 tsp salt
3 tbsp extra virgin olive oil
Instructions
Place all ingredients into a food processor and blend until you have a coarse pesto texture.
3.5.3251
Red Cabbage Carrot Slaw | Caribbean-Inspired Vegan Bento Box Meal Prep
You could use shredded broccoli or cauliflower stems instead of cabbage. You could also do this with brussels sprouts. If you don't want a slaw at all, use the dressing for romaine and/or kale.
Author: Jenné
Serves: 4-6
Instructions
Using the shredder attachments from your food processor, shred the cabbage and carrots. *Note: they use different attachments: the single blade is for the cabbage, and the shredder for the carrots.
If you don't have a food processor, shred by hand on a cheese grater. If you don't have a cheese grater, thinly slice the cabbage, and use a handheld grater for the carrots.
Place the veggies in a bowl.
Pour the remaining marinade/dressing from the grilled tofu over the veggies, and use your hands to massage.
Season to taste with salt.
3.5.3251